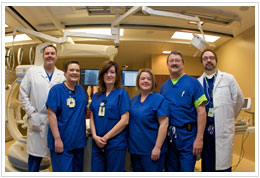 The Cardiologists of Centennial Heart believe in complete and compassionate patient care. Our practice strives to offer the best comprehensive coronary care and personal service you desire. As a patient you should expect nothing less.
One advantage of Centennial Heart clearly sets us apart from all others, our clinic-based Cardiac Catheterization Lab. Our office-based Cath Lab enables you to have definitive diagnostic solutions without the congestion or inconvenience of hospital based programs. We allow you and your family the comfort of having a more personal medical experience while seeking clarification of your heart symptoms. The Centennial Heart Cath Lab staff offers a unique blend of experience and personality. With over one hundred years of collective procedural experience they'll help your doctor deliver more than a diagnosis. They'll provide that caring human comfort you've been looking for.
Please contact us and experience the heart of what you've been missing.
Read more about the Cardiac Catheterization procedure.